Webinar: The new cold war is making us poorer
7pm Wednesday 19 April
Speakers:
Kate Hudson, General Secretary CND
Roger McKenzie, Morning Star International Editor
Bob Oram, No Cold War Britain
Micaela Tracey-Ramos, UNISON activist
Michael Burke, Socialist Economic Bulletin
Co-chairs: Fiona Edwards and Sequoyah De Souza (No Cold War Britain)
Socialist Economic Bulletin has previously published material on Britain's outsized military spending, for example recently here. This webinar is an important opportunity to further discuss these issues.
Registration is free here.
Webinar organised by No Cold War Britain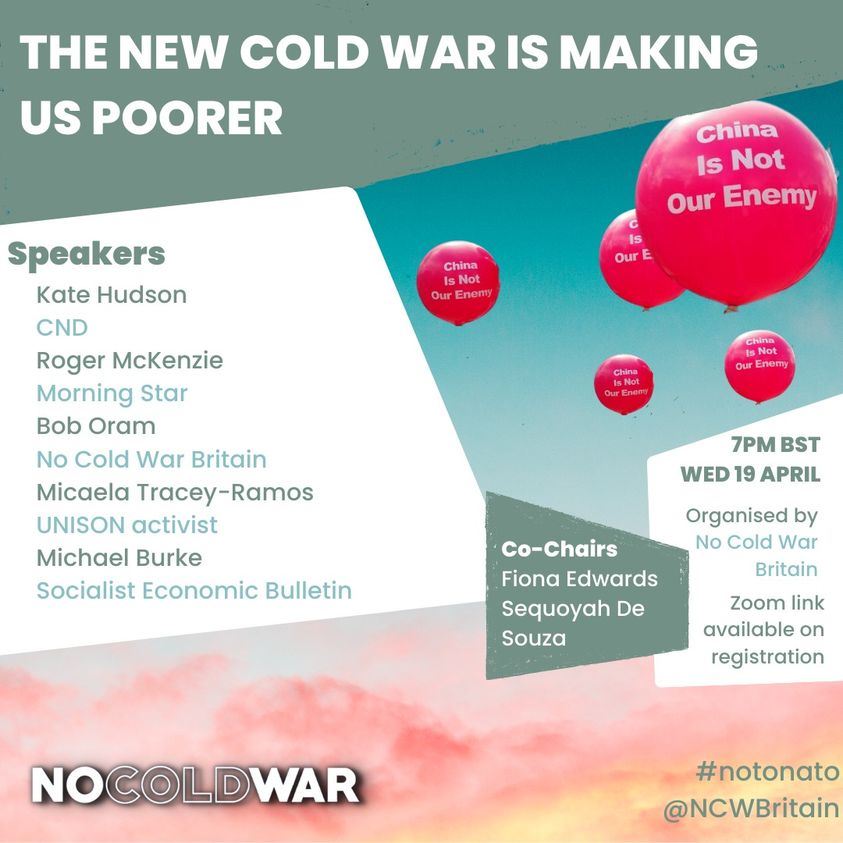 Information about the meeting from No Cold War Britain
This webinar will explore the many ways in which the new cold war against China and Russia is making us poorer.
The British government's obedience to the foreign policy agenda of the United States is leading Britain to pursue an increasingly aggressive cold war policy that is totally against the interests of the British people. Britain's hostility towards Russia and China, two nuclear armed states, is not only directly contributing to the huge cost of living crisis engulfing the country but is also destabilising the global situation at the expense of peace and prosperity worldwide.
Britain helped scupper the peace negotiations between Russia and Ukraine in April 2022 – negotiations in which an interim settlement seemed possible.
Britain's excessive military budget is the fourth largest in the entire world and was higher than Germany, Belgium, Denmark and the Czech Republic combined in 2021.
Britain's military budget stands at £48 billion – this is draining vital resources away from public services. The billions of pounds that Britain has spent in the past year sending weapons to prolong NATO's proxy war against Russia in Ukraine could be financing fair pay rises to settle the many pay disputes in the public sector or creating new green jobs to tackle the climate crisis.
Britain's opposition to peace negotiations and its support for the economic war on Russia are acts of self-harm. The sanctions on Russia have hit living standards in Britain as cheaper Russian energy is being replaced by more expensive US liquefied gas.
The cold war agenda is leading Britain to have poorer relations with China, the world's most dynamic and fastest growing major economy, which inevitably damages the opportunities for win-win cooperation and comes at the expense of jobs, trade, investment and access to the best and cheapest technology.
This No Cold War Britain webinar will explore the many ways in which the new cold war is making us poorer and why a new path towards global cooperation not confrontation is desperately needed to achieve both peace and prosperity in Britain and across the world.