By Michael Burke
It is possible that a much more detailed analysis of Thursday's Autumn Statement will be required, not least because its impact will dominate both the economy and the political debate for the next period. If so, that analysis can also be informed by insights from others, including the Institute for Fiscal Studies, the Resolution Foundation, the Joseph Rowntree and the Women's Budget Group. But below is the initial reaction to the Statement.
This was another austerity Budget. Hunt and Sunak say it will amount to a total of £55bn in fiscal tightening. According to the Office for Budget Responsibility (OBR) this is nominally more than the Osborne and Cameron 2010 package, yet less in terms of percentage of GDP.
The OBR economic forecasts are grim, as recession is combined not only with huge inflation currently at 11%, but a forecast of 7.4% average CPI for the whole of 2023. The OBR reckons that living standards will fall by 7% this year and next, which is unprecedented in most people's lifetimes. Even this is an average, with some pensioners and the super-rich being protected. Most ordinary people, workers and the poor, will see a far larger fall in living standards. Unemployment is also forecast to rise, which is quite something given current labour shortages (which are a function of too low pay). There was no word at all on public sector pay, so we should assume the worst. The government seems to be relying on well-below inflation recommendation from the public pay bodies.
The reason given for the austerity is the impact on government finances of the economic downturn/recession. Inflation was also offered as an excuse. But worsening government finances are inevitable as government receipts fall and unplanned expenditures rise when there is economic weakness. The underlying trend in the public sector deficit is down. Inflation was caused by the unprecedented US economic policy in 2020. So, in the famous and correct phrase, austerity is a political choice not an economic necessity.
There are three ways in which the austerity will be implemented. The first begins immediately as support for household energy bills begins to be withdrawn and public sector is sharply cut in real terms. Secondly, spending is not remotely matching inflation. This means very big real terms cuts when inflation is at 11% and further big price rises are expected next year. Thirdly, many of the big cuts in nominal spending are slated to take place in two years' time, that is, after the next election.
If it were really necessary to have austerity (it isn't) there could be an argument for postponing austerity until after a recession is over. But this is a purely political move – a Tory elephant trap for Labour.
Part of this is to postpone announcing decisions that in reality have already been made. So, there were also at least 3 reviews announced by Hunt in his Statement, into Universal Credit, the state pension age and NHS 'efficiencies', all to report before the next election. But Hunt has already planned and budgeted for the government cuts to be implemented in advance, so the main thrust of these reviews is already known- more cuts.
The idea is to get Labour to sign up to these same cuts across the board. If Labour does, the Tory hope is that the political gap between them and Labour is narrowed to the extent of giving them a fighting chance of winning the next election (or not losing disastrously as current polling indicates). If Labour refuse Tory spending plans, the claim will be that Labour will put up your taxes. This will be the centrepiece of the Tory election campaign (as well as anti-Corbynism).
A similar elephant trap was laid by Major and Clarke ahead of the 1997 general election, when they dared Labour to commit to their own eye-watering spending cuts in the first two years. Labour did commit to them which produced a slump in public services, with nurses memorably leaving in droves because of pay restraint (as shown in the chart below).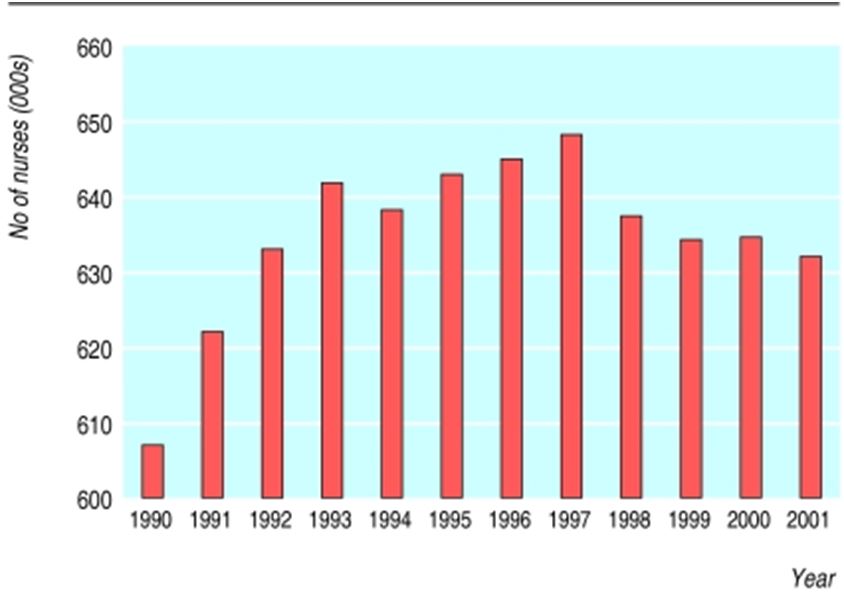 Source: National Library of Medicine
Strategically, these are small state Tories, intent on deregulation, privatisation, lower wages and lower union rights. This Statement is part of the planned Americanisation of the economy. The determination to pursue this project overrides even the short-term considerations about Tory polling prospects.
However, this analogy with 1997 breaks down in the comparison of economic circumstances and the state public services. In 1997 the economy was growing reasonably well and public services (including employment) had been improving after the debacle of the Exchange Rate Mechanism.
The situation is the opposite now. The economic outlook is dire and public services are in crisis, especially the NHS. The NHS cannot afford the planned cuts, whichever party implements them. They would also lead to widespread popular dissatisfaction or unrest.
There is an alternative. This is highlighted by the fact that that there is a big disparity between the economy and living standards. As Hunt says, even now the OBR still forecasts 4.2% real GDP growth for 2022. Yet living standards are falling. Simple maths means someone else is benefitting from that growth. This is an extreme example of a medium-term economic trend; meagre economic growth has been accompanied by falling living standards.
The beneficiary of that growth has been the big companies and banks, the profiteers, price gougers, landlords and others. Again, Hunt showed the way. His 45% time-limited windfall tax levy on energy producers alone is reckoned to produce £14bn in revenues. This is one-quarter of the total package he announced.
But there is no reason in principle not to raise levies of 100% on windfall profits, especially as energy company investment is already subsidised. Better still, taxes could be increased across the board on all those benefiting from the current crisis.
Of course, nationalisation would deal with this problem permanently. The State could then raise the level of sorely needed investment, remove shareholder dividends and excessive pay and still keep prices low.
Investigators in financial crime tell us to 'follow the money'. Austerity is an economic crime against the vast bulk of the population. The alternative to Tory austerity is to follow the money to those who have got their hands on what properly belongs to the public, and use it for public investment, decent incomes, and proper public services.